How are the top nifty gainers of 2021 performing in 2022? An update.
Posted: Oct 14, 2022 11:30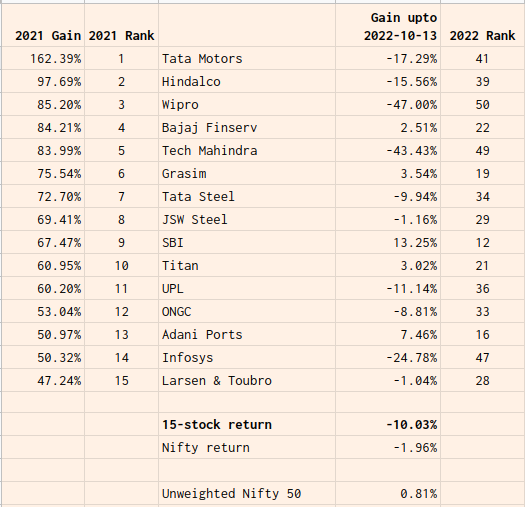 SHARE
In December 2021, we checked whether portfolios built by picking the top 15 nifty stocks of a twelve-month period outperform the nifty in the next 12.


In that study - starting 2016 - we found that in four of the five years, these portfolios comfortably outperformed the nifty. The exception was 2017, when the nifty finished ahead by just 1.31%.

This is the study:


If this trend were to continue, we would expect 2021's top 15 nifty gainers to be ahead of the nifty as we get into the last quarter of the year. We had last checked on April 20, 2022:


So, on April 20, the 15 biggest gainers of 2021 were indeed ahead of the nifty with a 1.01% gain, as against a 2.28% loss for the nifty.

However, the picture has changed dramatically now, with last year's top 15 averaging a loss of 10.03% on October 13, while the nifty was down a much smaller 1.96%. The average gain of the 50 nifty stocks (unweighted) is higher at +0.81%. You can see the performance of the 15 stocks in the table near the top of this page.

In fact all the three tech stocks from last year's top 15 are currently in the bottom four in the nifty's 50 stocks.

The top gainer for 2022 so far is Coal India, up 60.60%. It is not in the table above as it was not a top 15 finisher in 2021.

This exercise is similar to a momentum investing strategy, except that a set of just 50 stocks is too small to choose from. The lack of diversification can hurt, as we are seeing with those tech stocks. However, this strategy has worked more often than not in the small sample of six years. But this is not really momentum investing!


---
If you wish to learn more about Momentum Investing and other proven strategies, as well as actually try them out, REGISTER NOW for this practical course conducted by Deepak Mohoni:


As a participant you will build and monitor your own momentum portfolios for US and Indian markets, and watch them beat the benchmark indices comfortably. You also get several free online spreadsheets (Google Sheets) to work with and keep forever, including some for momentum investing.

WhatsApp us   +91 97633 26592
More stories about: Investing

Blog