How are the top nifty gainers of 2021 performing in 2022?
Posted: Apr 20, 2022 17:10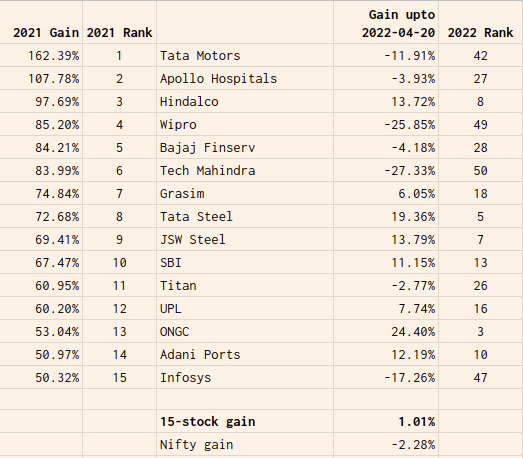 SHARE
This is a follow up to an earlier post:

In that post we investigated whether a portfolio built by picking the top 15 nifty stocks of a twelve-month period outperform the nifty in the next 12. In that study we found that in four of the five years studied, these portfolios easily outperformed the nifty. The exception was 2017-18, when the nifty finished ahead by just 1.31%.
If this trend were to continue, we would expect 2021's top nifty gainers to be already ahead of the nifty, with nearly four months of 2022 over.
The table above shows the performance of 2021's 15 top nifty gainers, and we do indeed find that last year's 15 biggest gainers are ahead with a 1.01% gain, as against a 2.28% loss for the nifty. The gains come despite 4 of the 15 stocks finding themselves in the bottom 10.
The percent changes have been computed from Dec 31, 2021 to Apr 20, 2022.
This exercise is similar to a momentum investing strategy, except that a set of just 50 stocks is too small to choose from.
If you wish to learn more about momentum investing as well as several other proven strategies, REGISTER NOW for this insightful course conducted by Deepak Mohoni:

As a participant you will build and monitor your own momentum portfolios for US and Indian markets, and watch them beat the benchmark indices comfortably. You also get several free online spreadsheets (Google Sheets) to work with and keep forever, including some for momentum investing.
WhatsApp us   +91 97633 26592
More stories about: Investing

News